On this page you will find travel websites we find useful when planning a trip.
Hotels & Accommodation
Advertisement
Booking.com
Booking.com is a good place to start when you are looking for a hotel at your destination. On the website you can find budget hotels, top-class hotels, and everything in between, in nearly any place on the continents. Search and check hotel availability here:
Hostelworld
Hostelworld has 36,000 properties listed in 178 countries around the world, so if you are looking for hostel accommodation for your trip, this is a great website to search on. You will have access to millions of guest reviews and their customer service is available 24/7.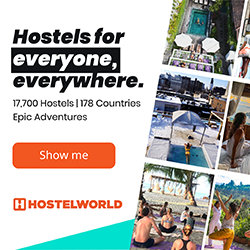 Tours & Activities
Advertisement
Get Your Guide
Get Your Guide is a great website to find tours and local activities at your destination. You will be able to skip the lines at the popular museums and sights and be guided to top experiences you may not find on your own. The good thing is that you can cancel up to 24 hours before your scheduled activity – just in case you change your mind!


Klook
Klook is the website to look for tours and activities particularly in Asia and Oceania, but it is expanding fast also in the rest of the world. You will get inspiration to book things to do and explore at your destination here – which you would maybe not have discovered otherwise!

Car Rental & Rail Passes
Advertisement
Discover Cars
Discover Cars is the leading car rental website with rental cars in nearly all countries. The rates are competitive and customer reviews are excellent. Using Discover Cars you can easily compare car rental options across both local companies and recognised international car rental providers such as Hertz, Avis, Europcar and Alamo.

Japan Rail Pass
Japan Rail Pass is the gateway to experience and explore Japan. You can buy your rail pass for Japan here – and you can also include Pocket WiFi, as well as Airport Meet & Greet!