Fancy a Hotel with a Japanese Onsen in Tokyo?
JAPAN
Visiting Tokyo in February is just before the Tokyo cherry blossom season. We have found a gem of a hotel with a Japanese
onsen
in Tokyo, a convenient budget-friendly ryokan with an excellent, quiet location in Bunkyo near Ueno Station.
UPDATED: 29 JAN 2023
I
n Narita Airport we jump on one of the frequent,
super accurate express trains
that will take us into Tokyo. We are on our way to
Hotel Edoya
, a local hotel near Ueno, Tokyo, featuring a Japanese rooftop hot bath, or
onsen
, with both indoor and outdoor sections.
From Narita it is fast and smooth to get to both Ueno Station and Keisei Ueno depending on whether you take the Narita Express or the Keisei Skyliner. Hotel Edoya is located within a 15-minute walk from both stations.
Travel Tips
Advertisement
Advertisement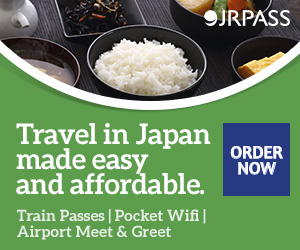 Most streets in Japan haven't got names. The addresses are based on geographical areas: prefectures, municipalities, districts of town, blocks and apartment numbers. This is also the case here and when we leave the broad avenue, the quarter turns into an intricate pattern! To find our way is not quite as amazingly simple as it looks on the map – even if we are extremely close to the hotel!
A group of Japanese young people come to our rescue. Despite the language barrier, one of them offers to help us. His communication skills in English are not overwhelming, but with straightforward gestures he lets us understand that he is going to accompany us right to our hotel!
He will catch up with his friends later, and we confidently follow him. We zigzag through the quarter, and then all of a sudden he stops, with a service-minded expression on his face and an accompanying slight bow. It appears that we are just in front of our hotel, the ryokan Edoya, named after the ancient Tokyo: Edo.
Traditional hotel in Tokyo
Advertisement
Hotel Edoya
is a budget-friendly hotel / ryokan in the quiet neighbourhood Bunkyo near Ueno Station, Tokyo. The hotel features Japanese style rooms with tatami floors, futons, low chairs and a fridge. A real gem is the ofuro / onsen section which has both indoor and open-air hot baths. The hotel has a local restaurant with a Japanese and western breakfast buffet in addition to other meals served, and offers free tea and coffee in the lobby.
View more hotels by district in Tokyo!
Edoya is even very budget-friendly compared to many other Tokyo hotels, in particular other Japanese onsen hotels. It may be a bit old-fashioned – but this goes hand in hand with the traditional style. Besides the ofuro bath, the hotel offers a Japanese style buffet breakfast with a variety of customary Japanese food. Moreover, there are also some Western breakfast options. Most rooms are Japanese-style – from single rooms to the large tatami family room which sleeps five.
The host welcomes us at the small reception. With an accommodating attitude he immediately makes us feel at home. He may be a bit reserved at first sight, but behind his modest conduct he reveals a cordial mind.
During the short check-in process we get a chance to see both rigorous Japanese etiquette as well as distinct politeness. Slightly bowing, he returns my credit card with both hands. In our conversation, while taking us to our room, he explains about the place and the amenities. We listen carefully since it is definitely not a Western hotel, and the facilities reflect the Japanese culture.
There is a guest lounge with small tables and Western chairs, as well as a Japanese tatami mat-covered low-table living room with Japanese decor. Moreover, the ryokan features a pleasant roof garden for beautiful days!
Advertisement
Traditional hotel in Tokyo with onsen / ofuro
Our Hotel Edoya is one among a handful of still existing, traditional accommodation options in Tokyo that feature an onsen style / ofuro bath. At Edoya the bath is even located on the very rooftop – which makes it an absolutely unique experience!
We are a little bit curious how the bathing procedure is – although already having read about it. So we take the lift to the top floor to have a look before trying it ourselves. In the evening we then come back and confidently enter the room ready to get our own personal ofuro / onsen experience.
However, being so focused on behaving in accordance with Japanese etiquette, we mistakenly seem to understand that we must change our slippers for some other 'bathing' slippers before entering the bathing section – just like the red 'bathroom slippers' available in our room to use when you go to the bathroom. We slip into the neatly placed slippers right at the stairs outside the bath, leaving our 'own' slippers behind. Not until we enter the room already being used by a few Japanese guests, do we realise our mistake. They cannot help smiling and are pointing at our slippers! We have taken THEIR slippers which they left outside!
A visit to the traditional washing room with stools, wash bowls and showers to be used for rinsing, is our first step before gliding down into the hot tubs.
So we enjoy the sharp and frosty February night in the steamy open-air onsen bath way above the streets of Tokyo, while gazing at the twinkling stars on the dark night sky. It is awesome and an outstanding experience! There is one section for women and another one for men, both having an indoor and an open-air bath available to the guests.
Explore more of Tokyo?
Tokyo itinerary 2 days
Tokyo itinerary 3 days
It is absolutely phenomenal considering that we are in world's largest metropolis with over 38 million people in the Greater Tokyo Area. And still it is possible to bring elements from nature, like the subterranean hot water, directly into a building. On the rooftop among green plants and stunning silence, we experience a synthesis of traditional Japanese culture, geothermal water and cold winter crystal air speckled with stars. The onsen bath in our hotel is definitely one of our top experiences in Tokyo so far. An 'onsen hotel' in Tokyo, and even in central Tokyo … that is spectacular!
Japanese style buffet breakfast
Like the other guests we simply must try the yukatas on. The yukata is a casual style kimono to be worn at home. Contrary to many other guests, we stick to wearing them only for the bath. Many Asian guests surprise us by appearing in yukata for breakfast in the restaurant with access from the street via an automatic sliding door.
The breakfast is mainly Japanese with ingredients such as fish, rice, raw eggs, weeds, miso soup and a whole range of other specialities pretty unknown to us. Moreover, there is a 'Western' corner. In general everything is delicious! A few ingredients are probably not for the most picky Western people – but there are loads of other tempting things to try!
Located a bit away from the bustling streets around Ueno Station, the neighbourhood has a relaxed atmosphere. Outside Edoya there are sets of traditional-looking benches with red blankets and cushions to sit on. It is just perfect to chill for a moment here or to sit people-watching, following the local life in the small street and around. We take our time to enjoy the lovely mild February day and process all the Tokyo impressions. Due to its quiet location this Tokyo hotel with onsen amenities in a gem of a neighbourhood close to Ueno Station is definitely a hotel we will return to the next time we come to Tokyo!
Ryokan
The term ryokan can be translated to a 'Japanese inn'. Typically, the ryokan features rooms with tatami floors, sliding doors, futons to sleep on, low tables and couches to sit on, as well as an entranceway to leave your shoes in. The ryokans also provide the guests with yukatas (the kind of casual Japanese kimono) as well as they offer the possibility of having an ofuro / onsen bath.
The ryokans go back to the 8th century as the prevailing type of lodging at that time, and they have existed ever since in Japan as conventional accommodation. Today they tend to be more frequent in the rural areas of Japan, since the Western hotel culture in general has outcompeted the original ryokans in the cities.
Our hotel room features tatami mats on the entire floor. The futons are arranged side by side directly on the very tatami floor. Opposite, we have a low table with legless chairs around. They are astonishingly comfortable to sit on – despite what we initially imagine.
We sleep on customary futons with long, rectangular pillows stuffed with 'rice pearls' to the extent that they are unbelievably hard. Our immediate impression is therefore that they must be inconvenient and unpleasant to sleep on. Nevertheless, we wake up the next morning deeply puzzled that we have slept so well. The pillows have been unexpectedly comfortable. Apparently they adapt to the individual shape, modelling the face as a mold which results in a terrific sleep!
The entranceway behind the sliding door is flanked by a row of meticulously placed slippers. Guests use slippers everywhere inside, including red plastic slippers for the bathroom! Very fast the entranceway gets filled up with all our shoes added to the slippers provided by Edoya.
Bunkyo Civic Centre …
… with a view to Mount Fuji.

We are stunned to experience one of these technological Japanese toilets with heat and a control panel full of Japanese characters allowing for a number of sophisticated functions besides flushing. Prior knowledge about these conventional functions would undeniably be an advantage, as well as knowing the most essential hiragana or katakana characters. The automated panel is not immediately understandable to us … but we figure out how to flush! There is also a deep cedar tub, but we opt for the shower facilities on the top floor when trying the common hot bath up there!
Onsen / ofuro
An onsen is a Japanese hot spring or bathing facilities with geothermal hot water due to the subterranean volcanic activity. Traditionally, the onsen facilities are outdoor facilities, but some ryokans, hotels and other public establishments today often feature indoor facilities. The water typically has a temperature of 40-50 degrees centigrade.
An ofuro bath is in all its simplicity a bathtub with hot water. It is, though, connected with traditional rituals to take a bath in Japan. First you must rinse by pouring water over you from a bucket while sitting on a stool. This is the traditional way. Nevertheless, today you also often find a handy shower in the first room as an alternative to the bucket of water. After this first step you are now ready to descend into the tub.
The water in the ofuro bath is commonly shared among many people, whether it is in private homes or in a public place. The bath is supposed to be a pleasure and you are supposed to take your time there! The water temperature can easily reach over 45 degrees centigrade, so it is wise to sink slowly down into the water to avoid a sudden heat shock!
The Ameyoko market near Ueno Station
Edoya is not far from the busy Ueno Station and the Ameyoko market street literally below the train line between Ueno Station and Okachimachi Station. After World War II it started out as the black market of Tokyo offering American products. Ameyoko is short for Ameya Yokocho with the original meaning 'candy street' and the prefix 'Ame' for American.
The Ameyoko market has existed ever since as a shopping street, and today it features a whole range of shops, where you can buy just anything from fresh fish to voluminous travel bags and stacks of colourful clothes. The small restaurants are popular with their offer of ramen, soba and udon. All in all, it is a real bazaar-style market. Prices are extremely reasonable here compared to other parts of Tokyo.
Read more about Tokyo (vibe, see & do, accommodation, price level, transport, safety, climate, history) in our Tokyo Travel Guide:

Do you need a 3-day itinerary in Tokyo? Then take a look here:

If you are in Tokyo for 2 days, you may consider our 2-day itinerary: Best Things to Do in Tokyo – Itinerary 2 Days
Travel Insurance / Visa
Have you considered what you will do in the (unlikely) event of something unforeseen happening? Do you need a travel insurance? Check here if you need a travel insurance for your trip – and check here if you need a visa for your trip and apply for it!
Share on Social Media
Hotels Ryokan near Ueno Station Tokyo with Onsen
Ryokan vs Hotel with a Japanese Onsen in Tokyo
Featured image of
Fancy a Hotel with a Japanese Onsen / Ryokan in Tokyo:
Travel In Culture
Ryokan Tokyo cheap – Tokyo budget inn – Tokyo ryokans – Tokyo onsen hotel
INSPIRATION