Kinkakuji Temple
The Golden Pavilion in Kyoto
JAPAN
The Kinkakuji Temple is a zen temple, also known as The Golden Pavilion, in north-western Kyoto. Notably, it is one of the most valuable and priceless temples in Japan. It is an iconic landmark in Kyoto drawing a large number of visitors every year.
UPDATED: 29 JAN 2023
As Japan's former capital Kyoto has a rich history and an exceptional number of well-preserved historic temples and shrines. Kinkakuji Temple in Kyoto is one of these temples which has obtained status as a World Heritage Site. Not many visitors come to Kyoto without getting a glimpse of the sublimely beautiful Kinkakuji Temple, or to English speaking foreigners The Golden Pavilion.
Travel Tips
Advertisement
View on map
Kinkakuji Temple – The Golden Pavilion in Kyoto
Kinkakuji Temple is an outstanding, gold-plated pavilion, scenically located in the Kitayama district at a tiny mirror lake with small islands and pine trees as the setting. Still mirror images of the trees reflected in the water picturesquely surround The Golden Pavilion. The small pond, the Kyokochi Pond was once filled with lotus plants. Due to its scenic location and its golden appearance, this is unquestionably one of the most famous temples in the entire country.
Originally, in 1397, it was built as a retirement pavilion for the shogun Ashikaga Yoshimitsu (1358-1408). Ashikaga Yoshimitsu acquired the land around the lake from the statesman Saionji Kintsune. After the shogun's death in 1408 the temple was eventually converted into a Rinzai Zen Buddhist temple in accordance with the shogun's wishes. Later, the temple was renamed Rokuonji after the shogun's religious title.
The pavilion is an intriguing mix of three architectural styles. The ground floor is constructed in the architectural style of the Heian period (794-1185). This floor features a veranda and a fishing deck. The middle floor is laid out in the samurai style and has the Buddha Hall with a shrine dedicated to Kannon, as well as painted walls and ceilings decorated with birds. The top floor is designed in the Zen architectural style. Most famed is the temple probably for its sumptuous golden look.
Advertisement
The exterior of the two upper floors of the picture-postcard Kyoto golden temple are lavishly covered in gold-leaf, and so is the interior of the very top floor.
This is infinitely close to pure beauty. The panoramic setting is like an embellished naturalist painting and a true masterpiece of Japanese architecture.
Advertisement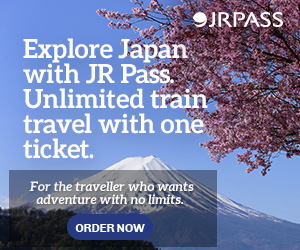 Kinkakuji Temple has been subject to both fires and wars (the Onin War 1467-1477). The pavilion has burnt down several times throughout history and has miraculously been as splendidly and luxuriously rebuilt every time afterwards, latest in 1950 when it was set on fire by a monk.
Kinkakuji Temple gave in the 15th century with its uniqueness inspiration to the construction of another imposing temple, namely the Ginkakuji Temple (The Silver Pavilion) in Kyoto.
Where to stay in Kyoto
Advertisement
Kyoto Tower Hotel
is centrally located right at Kyoto Station. The hotel features a public bath and an observatory.
Sakura Terrace features spacious public baths & sauna in the heart of Kyoto with a convenient location near Kyoto Station.
OYO Carta Hotel Kyoto Gion is a hotel with modern rooms located in the heart of Kyoto close to Gion, the Kamo River and the Kiyomizudera Temple.
Share on Social Media
Kinkakuji Temple – The Golden Pavilion Kyoto
If you are based in Tokyo and plan to make a trip to Kyoto, then you can find inspiration in our 3-day itinerary for Kyoto and Nara which includes Kinkakuji Temple and other significant temples and shrines in Kyoto. It also includes the top sights in Nara – Japan's first capital – which can easily be reached by train on this same trip.
To gain more insight into Kyoto's fabulous temples and shrines – and find out which of them you should include in your Kyoto itinerary – besides The Golden Pavilion, you may also want to read 11 Must-See Temples and Shrines in Kyoto where you will get an introduction to some of the absolute top shrines in Kyoto.
If you need travel tips in general for Japan, you may want to take a look at our Tokyo Travel Guide which gives useful facts about Tokyo and Japan, including what to see & do, accommodation options, price level, climate, transport and safety:
Read next: Would you like a hotel with a Japanese Onsen in Tokyo
Travel Insurance / Visa
Have you considered what you will do in the (unlikely) event of something unforeseen happening? Do you need a travel insurance? Check here if you need a travel insurance for your trip – and check here if you need a visa for your trip and apply for it!
INSPIRATION