Tokyo to Kyoto by Train: Ultimate 3-day Itinerary
JAPAN
While visiting Tokyo, seize the opportunity to travel from Tokyo to Kyoto by train to explore one of the finest cities in Japan. Kyoto was Japan's capital and the emperor's residence for nearly 1100 years (794 – 1868). You may even include a day tour from Kyoto to Nara, Japan's first capital, on this same trip.
UPDATED: 29 JAN 2023
View on map
How to get from Tokyo to Kyoto? It is easy to make a 3-day itinerary by train from Tokyo to Kyoto and Nara, covering some of the most important cultural and political locations in the two former capitals. For the round trip Tokyo – Kyoto – Nara it may well turn out to be the cheapest option to buy a Japan Rail Pass with a validity of 7 days to use for the bullet train Tokyo to Kyoto. In addition to the 3-day trip to Kyoto, you will then be able to reserve another 4 days on your rail pass to visit other places in Japan during the 7-day period.
Where to stay in Kyoto
Advertisement
Advertisement
To get the most out of only 3 days in Kyoto and Nara, you will need to prepare well – and have a clear idea which historical sites, temples and shrines you want to see.
The easiest way to get round to all the temples and shrines in Kyoto is on foot. So even if you now and then can take a bus, a local train or maybe a taxi, you will most likely be covering great distances walking! Therefore, bring appropriate shoes for the sightseeing in Kyoto!
Advertisement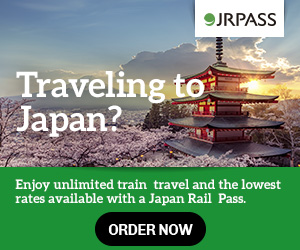 Also, if possible at all, try to limit your luggage for the Kyoto trip to a small backpack. Your hotel in Tokyo may well be willing to store your suitcase or large backpack until you return to Tokyo. In that way you can carry your small rucksack around on Day 1 in Kyoto and similarly on Day 3 in Nara before returning to Tokyo by train. Alternatively, you may be able to leave your luggage in a locker at Kyoto Station – or leave it at your hotel/hostel near the station. That will add valuable time to your sightseeing in Kyoto and Nara!
Out of all the historical sites and fascinating temples & shrines in both Kyoto and Nara it is not easy to pick the right ones to visit. Alone in Kyoto there are around 1600 temples and 400 shrines – so you have to prioritise!
Below an itinerary for Kyoto and Nara is suggested that covers some of the most significant temples and shrines – and a few other curiosities. There are of course many other fabulous temple constructions in Kyoto you could also want to include, but you are limited by your 3 days here – and this is at least a good starting point! It will be 3 long sightseeing days – but it is totally worth the effort!
DAY 1: Tokyo-Kyoto by train, temples & shrines in Kyoto
1. From Tokyo to Kyoto by train
You will start out from Tokyo Station early in the morning taking the Shinkansen train. You can make a seat reservation beforehand – maybe already when arriving at Narita Airport.
Travelling from Tokyo to Kyoto by Shinkansen is smooth and comfortable. On the way you will pass Mount Fuji all close. With a bit of luck you may therefore be able to see the snowcapped mountain and its iconic, symmetric form completely clearly. Enjoy that the Tokyo to Kyoto bullet train drills almost silently through the landscape and that you can just lean back and enjoy the sceneries.
Advertisement
If you have skipped breakfast in order to leave Tokyo early, you can do as a vast majority of the travellers on the train who acquire bento boxes at Tokyo Station or somewhere else before boarding the train. These small bento trays are divided into a number of tiny rooms for a variety of culinary delights.
After some hours (usually between 2 hours and 40 minutes and 4 hours – depending on the type of Shinkansen train) you will be arriving in Kyoto where you right away will start your temple and shrine tour.
Share on Social Media
Tokyo to Kyoto train
2. Higashi Honganji
From Kyoto station you can walk directly to the centrally located Buddhist temple complex Higashi Honganji. The UNESCO World Heritage temple Nishi Honganji from 1591 is the head temple of the Buddhist Honganji creed and a fine example of a Buddhist temple with contemporary practice of Buddhism. The adjacent Higashi Honganji is most impressive in size and is the largest wooden structure in Kyoto.
Remember to take off your shoes and put them on the rack provided before entering. At the colder times of the year many of the temples provide the visitors with slippers to put on while inside! The shelves are numbered, so it is easy to find your own shoes again!
3. Sanjusangendo Temple
Continue to the Sanjusangendo Temple. It dates back to 1164 and was constructed on the orders of the former Emperor Goshirakawa. It is famous for having 1001 carved wooden golden statues of Kannon, the Buddhist Goddess of Mercy. A large, wooden statue sits in the center of the hall flanked by 500 smaller statues on each side in 10 rows. A Kannon has 11 heads and 1000 arms! It is an overwhelming sight in the long temple hall which is also Japan's longest wooden structure.
4. Kiyomizudera Temple
Next, head for the Kiyomizudera Temple from 780 which is also UNESCO World Heritage. It is located in east Kyoto on the green forest hills. The temple is a Buddhist construction belonging to the Hosso sect. It is renowned for its large, outstanding wooden stage which is built without the use of nails. From the stage visitors can enjoy a gorgeous view to the maple and cherry trees below.
5. The Higashiyama district
On the way downhill towards the Kodaiji Temple and Yasaka Shrine, you will pass the picturesque, historic streets in the Higashiyama district. It is old, narrow lanes flanked by ancient-style wooden houses occupied by small crafts shops, pottery sale, restaurants and cafës offering sweets and traditional tea.
If it is now time to look for a place to eat, you are at the right place. With a bit of luck you may even find a tiny restaurant with sliding doors and low tables – and maybe a trickling stream of water from a bamboo tube.
6. Kodaiji Temple
The Kodaiji Temple from 1606 is located in the southern Higashiyama area. The first Tokugawa shogun, Tokugawa Ieyasu (1542-1616) provided the financial means for the construction of the temple. The interior of the main building was originally painted with lacquer and had lavish gold decorations. It is considered to be one of Japan's finest cultural temple masterpieces. There is a pond garden and a temple garden of esthetic beauty. Moreover, it features a small bamboo grove.
7. Yasaka Shrine
You continue to the Yasaka Shrine, once named the Gion Shrine, which dates back to 656. It is a characteristic landmark in Kyoto, especially the two-storey remarkable entrance gate is much photographed. The orange shrine also features an adorable garden of cherry trees which makes the place very popular for hanami (flower viewing) during cherry blossoms in spring. Since it is also traditionally a geisha location, there is a small chance that you can get to see a Kyoto geisha here. Especially during some of the festivals held at the shrine you may be lucky.
8. Heian Shrine
The Heian Shrine is a bit further to the north. It is a long walk from the Yasaka Shrine, but it is definitely worth it! The shrine dates back to 1895 as a reconstruction of the former Heian Palace erected for the industrial exposition fair in Kyoto that year and dedicated to some of the emperors. It was built on the occasion of the 1100th anniversary of Kyoto's foundation. After the exhibition the replica was kept and it has still today significant religious and cultural importance in Japan.
9. The Gion district
Depending on your energy level you may now go for a stroll in the Gion district. Alternatively, if you at this point have reached your limit on how many cultural impressions you can take in in one day, you may also put it off till Day 2! In Gion (and in the Pontocho district on the other side of the Kamo River) you can experience genuine, original Kyoto atmosphere in the old streets with their original wooden houses. The Gion and Pontocho districts are the traditional geisha districts in Kyoto. Who knows, when they turn lively in the evening, you may catch a glimpse of a kimono dressed women – a geisha or a younger maiko (apprentice to a geisha)?
Depending on where you stay in Kyoto, you may also want to continue walking in north-eastern Kyoto through tiny alleyways. Characteristic red lamps hang outside the restaurant fronts, and you may find a place to have dinner here. Follow the small river flowing between low bamboo fences bordering gardens and homes and get the feel of the neighbourhood as it probably has looked during the last hundreds of years. The streets are unexpectedly lush with plants along the river.
Share on Social Media
Tokyo to Kyoto by train
DAY 2: More Kyoto temples & shrines
10. Kinkakuji Temple
The renowned Kinkakuji Temple is a must-see. If you want to make use of your Japan Rail Pass, you can take the local JR bus towards Takao from Kyoto Station. It has a route with a stop not that far from Kinkakuji Temple.
Kinkakuji Temple, ot the Golden Pavilion, is the awe-inspiring, gold-plated pavilion, picturesquely located by a mirror pond with tiny islands and pine trees. It is one of the most famous temples in Japan. Originally, in 1397, it was built as a retirement pavilion for the shogun Ashikaga Yoshimitsu. This is probably the closest you will ever get to genuine beauty. The scenery is like an embellished painting. Follow the path around it to contemplate the masterpiece of Japanese architecture from all possible angles.
Read more about Kinkakuji Temple – The Golden Pavilion in Kyoto.
11. Ryoanji Temple
Within walking distance from the Kinkakuji Temple you will find the Ryoanji Temple, a Zen temple from 1450. At the Ryoanji Temple you will be introduced to Zen Buddhism. The temple features the most famous Zen garden in Japan. The garden has the finest, seemingly polished, pebbles which are minutely raked into the most decorative patterns. 15 rocks are laid out on patches of moss among the pebbles in a spectacular way. At no moment can a visitor see all 15 rocks simultaneously. One rock is always hidden whatever angle you watch from. Try it out yourself!
The idea of the rocks and the garden is not immediately obvious. Several interpretations have been suggested. It is a place for meditation and deep thinking. Everyone is invited to find their own interpretation beyond the already proposed: that the rocks are young, swimming tigers – or that they represent the concept of infinity!
12. Nijo Castle
After taking the bus (or some walking + a local train) back to Kyoto, you may want to have lunch before continuing your sightseeing. You should jump off the bus near the historical Nijo Castle which is next. There are quite a few restaurants south of Oshikoji dori south of the castle.
Nijo Castle was built in 1603 as the residence of Tokugawa Ieyasu, the first shogun of the Edo period. After the fall of the shogunate it turned into an imperial palace. Today it is UNESCO World Heritage and open to visitors.
Behind the famous Karamon main gate, the huge stone walls and the gorgeous gardens covering 275,000 square metres, you find the Ninomaru Palace featuring the most impressive rooms with lavish wall paintings. The complex of 6 buildings contains 33 rooms used for various purposes. The palace was the kernel of the samurai society and where the shogun had his residence and from where he governed. In addition to the residential rooms there were waiting rooms for the feudal lords and rooms where the shogun received his audience.
Passing through the most impressive palace rooms with tatami mat covered floors and painted sliding doors, visitors are taken back to a bygone era. The nightingale floors in the castle are constructed in a way that they notably squeak in case of intruding enemies. You should try that the effect is still noticeable! The floors probably creak like birdsong when you step around!
The palace is surrounded by a rock garden of rare and scenic beauty where rocks and trees flank a small pond. The rocks represent great authority and the garden symbolises immortality.
13. Shopping
It is now time to 'gear down' a bit on temples and shrines and experience some Japanese markets and department stores. On your way back to central Kyoto you may pass by the famous, covered, old shopping street Nishiki Market where you can also indulge in traditional Japanese food and get local souvenirs. It is a long street of tiny restaurants and food stands with all kinds of culinary delights, fresh seafood and other local specialities.
Afterwards, to experience the contrasts in shopping opportunities, you may want to go to Kyoto Station and for instance visit the Isetan store right at the station. It is a major department store occupying 13 floors where you can find nearly anything. If you still have room for a bite after the Nishiki Market, your late afternoon snack (or dinner) could be delicious deep-fried seafood here – or a few pieces of delicate, Japanese chocolate. There is notably a whole section devoted to chocolate, and it is seemingly one of the busier departments. Delectable – and absolutely not cheap!
14. Gion and Pontocho districts
If you didn't get time to stroll around in the traditional Gion district on Day 1, you may wish to spend the evening in the Gion neighbourhood. Otherwise go to the Pontocho district on the other river bank, where you will take in all impressions and the atmosphere in the lovely, traditional Pontocho Alley between Sanjo and Shijo. Beware, quite a few places do not allow foreigners in! It is unquestionably still a gem and one of the most scenic Kyoto streets.
DAY 3: Kyoto-Nara, Nara temples and back Kyoto-Tokyo by train
15. Fushimi Inari Shrine
Before the return trip Kyoto-Tokyo late afternoon/evening, you will spend half a day in Nara. From year 710 until 784 Nara had status as Japan's first capital, and it still features 8 historic temples and shrines, today being UNESCO World Heritage.
On Kyoto Station you may just have time to stock up on a few food items to eat later in Nara Park.
On the way out of Kyoto towards Nara you can just squeeze in the outstanding Fushimi Inari Shrine by taking a local train to Inari Station at a short distance (5 minutes) from Kyoto Station. From Inari Station it only takes a few minutes on foot to arrive at the famous Shinto shrine.
The oldest parts of the Fushimi Inari Shrine date back to year 711. At the shrine you will immediately notice the foxes. They had religious importance as messengers of the god Inari who is the god of rice, fertility, agriculture and business. Fox statues appear in several places on the shrine grounds.
If you have time, you may continue on foot through the overwhelming array of 10,000 orange toriis and the 12,000 steps (or maybe you will just do with a tiny part of the trail!) up the mountains to the forest of the sacred Mount Inari. The trail is also part of the shrine grounds. The outstanding shrine is the most significant and at the same time the headquarters of the 40,000 Japanese Shinto shrines honouring the god Inari. The bright orange torii portals in the forest are absolutely scenic and even a bit surreal!
16. Continue from Kyoto to Nara by train
Then you jump on the train again bound for Nara, 45 minutes south of Kyoto. You can always check train departures on the website Japan Route Finder.
Nara is with its vast Nara Park to relax in, as well as its magnificent temples and shrines, a great place for day trippers. Not surprisingly, it is today UNESCO World Heritage.
17. The Great Buddha statue in the Todaiji Temple
The prestigious Todaiji Temple in Nara from year 752 is a must-see. It is the landmark of Nara and the head temple of all provincial Buddhist temples in Japan. In its heyday it was very powerful and politically influential in shaping the government of Japan. As an attempt to reduce its power, the capital status was actually removed from Nara in 784.
When entering the Todaiji Temple, you pass through the massive Nandaimon Gate (Great Southern Gate). Shortly after, you will catch sight of the Great Buddha statue. It was cast from over 400 tons of bronze, a major project at the time!
Its Great Buddha Hall is the largest wooden structure in the world and features this absolutely impressive 15 m high statue of the Cosmic Buddha (Daibutsu). It is truly immense, and you cannot be anything than deeply fascinated by the dimensions of both the Buddha sculpture and, not least, of the hall itself!
18. Kasuga Taisha
Impressive Kasuga Taisha, the Kasuga Grand Shrine is located just outside Nara Park. The shrine was established at the same time as Nara and was dedicated to the god responsible for protecting the city. Kasuga Taisha is known for its many bronze lanterns which are only lit twice a year, at special festivals in April and in August. Smaller shrines are located in the woods around the main shrine.
19. Kofukuji Temple
Stunning Kofukuji Temple and its adjacent elegant pagoda are conveniently right on your way. The temple was founded in year 669 as the initiation of a major temple complex around Kyoto which eventually counted 175 buildings. Today, only a few are left. The temple was moved from a suburb of Kyoto to Nara in 710 and is one of the most significant temples from both the Nara period and the Heian period in Nara. It is a major contribution to Buddhism in Japan and is one of the head temples of the Hosso sect. The Kofukuji Temple has both a Five-Story Pagoda, a Three-Story Pagoda and two octagonal buildings.
20. Nara Park
Enjoy a stroll around Nara Park established in 1880. Both the Kofukuji Temple and the Todaiji Temple are located inside the very park. The park is also known as Nara Deer Park due to a considerable number of deer roaming wildly on the green areas. For the last hundreds of years the deer have occupied the park. They are continuously protected, and so penalties occur if you do harm to the animals.
If you have brought something to eat, Nara Park is the perfect place for at small picnic.
The deer have throughout the years seemingly learned to bow for snacks! However, there are signs warning the tourists against close encounters! Anyway, they are most of the time likely calm and peaceful.
21. Nara to Kyoto to Tokyo by train
Keep an eye on the time, so that you can catch the right train back from Nara to Kyoto Station in due time for your Shinkansen train to Tokyo. If you can pick up your luggage in Kyoto (in case you haven't already got it with you) and board the Shinkansen train for Tokyo shortly after getting back to Kyoto from Nara, you will of course save time. Then get some well-deserved hours of rest on the Shinkansen back to Tokyo! Maybe grab a bento box on Kyoto station before leaving for your train dinner!
To get more detailed information about the history and background of the temples and shrines in Kyoto, you may want to read 11 Must-See Temples and Shrines in Kyoto.
You can find more useful, practical information for your trip in Japan in our Tokyo Travel Guide
If you have just 2 days in Tokyo, you may also want to read Best Things to Do in Tokyo – Itinerary 2 Days – and with 3 days in Tokyo, take a look at Itinerary for 3 Days in Tokyo
Read next: Hotel with a Japanese Onsen in Tokyo and Anime and Manga in Electronic Tokyo
See: How to Travel Light
Travel Insurance / Visa
Have you considered what you will do in the (unlikely) event of something unforeseen happening? Do you need a travel insurance? Click here to get a quote and buy your travel insurance – and click here to check if you need a visa for your trip and apply for it!
Share on Social Media
Tokyo to Kyoto by train – 3 days Kyoto
Featured image of
Tokyo to Kyoto by train – Kyoto 3-day Itinerary:
Travel In Culture
Tokyo to Kyoto by Train 3-day Itinerary Kyoto
INSPIRATION