Tokyo Travel Guide
JAPAN
Tokyo is Asia's bustling and vibrant gigantic metropolis – superior in population to any other city in the world. When visiting Tokyo you are being introduced to a fascinating world blending ancient Japanese culture and heritage with modern lifestyle, art and technology.
UPDATED: 29 JAN 2023
1. Facts about Tokyo
Country
: Japan
Currency
: Japanese Yen
Population
: Metropolis: 14 million, Greater Tokyo Area: 38 million
Density in Tokyo metropolis
: 6,350 per square kilometre (16,440 per square mile)
Divisions of Tokyo
: 23 special wards
Driving side
: Left
Climate
: Humid subtropical climate
Religion in Japan
: Buddhism and Shintoism. It is common to believe in both Buddhism and Shinto gods.
Electricity
: Standard 100 V, 50 Hz. Plugs and sockets are generally of type A and B.
Measures
: The metric system (but for room size: number of tatami mats).
Japanese writing system
: Kana (using the syllabic systems hiragana and katakana) and kanji (a logographic system of adopted Chinese characters).
Visa
:
Check if you need a Visa
Travel Guide for a Tokyo Trip
Advertisement
2. Vibe
Tokyo is the world-class capital where traditional Japan meets modernity in the fashionable, contemporary world. Although the contrasts are seemingly stark, Tokyo has in its own wondrous way found a natural balance between old and new. Historical temples and shrines lie side by side with brand-new, high-tech stores. Gift-giving, ikebana or flower arrangement, calligraphy workshops, painting classes and other traditional disciplines of arts still thrive in the midst of the hustle and bustle in modern Tokyo. A Shinto wedding at the Meiji Jingu shrine follows the old traditions, and the next day the couple goes back to their modern lifestyle in the vibrant city.
Akihabara is the district to come to for anime and manga. Originally known as the electric town abounding with electronic goods and other gadgets, it has today turned into a bright neon lit part of the city. Here you come across tons of shops related to the otaku culture and the cosplaying industry. Massive, sparkling facades decorated with trendsetting anime characters dominate the streets. On street corners the popular gachapon vending machines full of collectible figures can be spotted. Explore the anime and manga culture in Tokyo!
Nowhere else is the infrastructure as reliable and efficient as in Tokyo. Convenience stores are open 24/7. The public transport and the Tokyo trains are super accurate and it is a rare incident that trains are even a few seconds late. Japanese people are impeccably polite and always helpful. Everywhere the considerate employees will go out of their way to provide you with the very best. The courtesy and respect are all part of the Japanese etiquette and heritage.
3. Price level in Tokyo
Tokyo is in general one of the more expensive cities in the world, at least when it comes to housing prices, where Tokyo is known to be high-end.
Convert Currency: Convert prices in Japanese Yen into your own currency (or vice versa).
You can get an impression of the price level by comparing the most recent update of our cost of living indices in Japan to the cost in your own country:
Beer: Compare the price of a beer in Japan to the price of a beer in your own country.
McMeal: Compare the price of a McMeal in Japan to the price of a McMeal in your own country.
Taxi: Compare the price of going by taxi in Japan to the price of going by taxi in your own country.
Tipping: It is neither common nor expected to leave a tip in Japan – even if you are satisfied with the service you get. It may well be turned down or even considered rude. However, if you do choose to leave a small gratuity, do place the money in an envelope before handing it over with both hands, following Japanese etiquette!
4. What to see and do in Tokyo
4.1 Modern Tokyo
Cross the Shibuya Crossing. The renowned intersection is said to be the busiest pedestrian crossing in the world. Witness the daily, massive migration of the people working in Tokyo. At its busiest times it is a myriad of humans remarkably intertwining and then again miraculously escaping from the throng on the other side. Best spot to observe the crowd in the Shibuya Crossing right outside the station is from the second floor of the Starbucks coffee shop. Say hello to the famous Hachiko dog statue.
Ascend Shibuya Sky. Combine the experience of viewing Shibuya Crossing with ascending Shibuya Sky – the new open-air rooftop observation deck 230 metres above ground at Shibuya Scramble Square – providing a 360° view over Tokyo (fees apply).
Find anime, manga and electronics in Akihabara, the district of Tokyo famous for its many electronics shops, otaku stores of subcultures, maids cafés and anime-oriented shops. Visit Mandarake, Gachapon Kaikan, Don Quijote or Animate. Tokyo is a paradise for the anime and manga addict!
Enjoy the Tokyo cityscape from above. Go to one of the Tokyo Tower decks for extraordinary views of Tokyo.
Do Go-Kart – Mario Kart in the streets of Tokyo. Drive in a go-kart dressed as a Mario character.
Explore teamLab Borderless. Discover a borderless world in a museum. Interact in this three-dimensional 10,000-square metre world with no boundaries – beyond what you have previously seen!
Explore teamLab Planets. Explore a world where you walk (barefoot) through water in impressive artworks!
Ascend to the observation decks on the 45th floor of the Tokyo Metropolitan Government Buldings in Shinjuku for a free view of the Tokyo skyline. On a clear day you may see Mt. Fuji. Alternatively, go to the 25th deck of Bunkyo Civic Centre for another free 330-degree view of Tokyo (and with a bit of luck Mt. Fuji), or else Tokyo Skytree (fee applies) or Shibuya Sky (fee applies).
Buy plastic sushi samples in Kappabashi Street. The famous kitchenware street is dotted with shops selling all kinds of kitchenware, everything needed for restaurants like pots, pans, pottery and kitchen utensils. You will find appealing plastic and wax food samples which are being used in the restaurant windows.
Chill out in the vast Yoyogi Park. If you come on a Sunday you may be lucky to see a group of leather jacket dressed dancers in a 1950s attire performing to old music hits in front of the crowd.
4.2 Traditional Tokyo
Visit a museum to get behind the culture and history in Japan. Tokyo is indeed the capital of Japanese culture and features many museums of Japanese art and heritage. Visit Tokyo National Museum for Japanese and Asian culture and history, Japan Folk Crafts Museum for craft works, Ghibli Museum for the history of anime or the Edo-Tokyo Tatemono En for open-air historical buildings.
Follow your science interests in the top-rated Natural Museum of Nature and Science situated in a corner of Ueno Park. The collections of flora and fossils are huge! Moreover, the museum displays the technological development and history through a plentitude of tools and fascinating objects.
Arrive in spring to experience the spectacular cherry blossoms at temple grounds, parks and various other locations all over Tokyo. Ueno Park is one of the popular locations for sakura (cherry blossoms) and hanami (flower viewing with a picnic under the blossoming trees). Yanaka Cemetery is another option. Alternatively, if you arrive before Tokyo cherry blossom season, you may experience the traditional plum blossom festival at the Yushima Tenjin Shrine in Bunkyo, near Ueno Park.
Shop at the Ameyoko bazaar-style market under the rails between Ueno Station and Okachimachi Station, the old World War II black market with American products. Today you can get all kinds of products here.
Get up early to watch the sumo morning training at one of the sumo stables. The Japanese sumo training is an easy way to experience the fascinating sumo discipline.
Walk through the characteristic Kaminarimon Gate (Thunder Gate) of the Sensoji Temple, also known as the Asakusa Kannon Temple. It features an enormous red traditional chochin lantern. It is Tokyo's oldest Buddhist temple from year 645. According to the legend two brothers fished a statue of the goddess Kannon out of the Sumida River, and even if they put it back again, it kept on returning to them. The temple was then built for the goddess.
Shop for Japanese souvenirs in the historical 200 m (650 ft) long Nakamise Street at the foot of the Sensoji Temple.
Buy local products at Yanaka Ginza, the old shopping street in the Yanaka district just off Nippori Station. Here you still find a unique timeless Shitamachi atmosphere, with a vibe and reminiscence of ancient Tokyo. You will see the locals shopping and passing to do their chores. Groceries, snacks, pottery, tea and other necessities are sold from small shops squeezed in one beside another and next to abundant food stalls of local food.
Take a stroll in the old Yanaka Cemetery where the last shogun of the Edo period, Tokugawa Yoshinobu, is buried.
Cross the bridge to the Chiyoda Imperial Palace East Gardens, open to the public. The gardens are the former site of Edo Castle, residence of the Tokugawa shogun in Japan 1603-1867.
View a wedding at the Meiji Jingu Shinto shrine near Harajuku Station. The shrine is dedicated to the former Emperor Meiji who ascended the throne in 1867. With him Japan underwent radical changes to a modern society and the feudal era in the country came to an end. The shrine is frequently used for weddings.
4.3 Try this
Try sushi for breakfast or lunch at the Tsukiji Outer Market abounding with shops and seafood restaurants.
Have a night out at a chic nightclub in the entertainment district Roppongi.
Visit the Robot Restaurant. It is a popular entertainment event with robot shows and dancers surrounded by neon lights and music.
Take the Tokyo water bus on the Sumida River from Asakusa to Odaiba.
Try an onsen / public hot bath. You may stay in a Tokyo onsen hotel that features a traditional hot bath.
Shop with all Tokyo teenagers on Takeshita Street at Harajuku and notice the latest trends within pop culture.
Get lost inside and try to find your way out of Shinjuku Station. It is the busiest train station in Tokyo and in the world having about 3.5 million people daily passing through – sheer facts! The station features both shinkansen trains, JR and other lines. It is served by 5 railway companies, has 36 platforms and 200 exits!
Have a drink in Golden Gai, the old post-war quarter near Shinjuku Station. 6 narrow alleys and 200 tiny, shanty-style bars together make up Golden Gai. Most of the bars seat just 4-10 people!
Do you need a 3-day itinerary in Tokyo that includes the major sights? Then click on the travel guide:
If you have only got 2 days in Tokyo, you may consider this 2-day travel guide: Best Things to Do in Tokyo – Itinerary 2 Days
5. Useful books about Tokyo
Do you want to know more about Tokyo?
Advertisement
6. Facts about travel safety in Tokyo
Japan is considered among the safest countries in the world and has an extremely low crime rate. See facts about the crime level in Japan (and Tokyo):
Crime: Compare the crime rate in Japan to the crime rate of your own country: Crime Rate
Anyway, it is like for all other destinations always a good idea to take appropriate safety measures and follow travel safety tips.
The corruption level in Japan is also ultra-low.
Corruption: Compare the corruption index in Japan to the corruption index of your own country: Corruption Index
Finally, check if you need a travel insurance for your trip – in the unlikely event of something unexpected happening!
7. Where to stay in Tokyo
Where to stay in Shibuya
Advertisement
Shibuya is a sprawling shopping district with an immense offer of all kinds of stores, restaurants and nightlife. Shibuya features one of the busiest train stations in the world: Shibuya Station and the famous Shibuya Crossing.
Budget
Hotel Emit Shibuya is a conveniently located hotel within 10 minutes' walk of Shibuya Center Town and the impressive Meiji Jingu Shrine, one of Tokyo's most significant shrines. All rooms feature free WiFi, flat-screen TV, air-conditioning and refrigerator. A continental breakfast is served every morning.
Mid-range
Shibuya Hotel En is a hotel located 7 minutes in walking distance from Shibuya Station and the renowned Hachiko dog statue. It is close to countless trendy shops and the famous vibrant Shibuya Scramble Crossing. Rooms are air-conditioned and furnish a TV, an electric kettle, flat-screen TV, en suite bathroom and a seating area.
Top
Cerulean Tower Tokyu Hotel is located close to Shibuya Crossing and Shibuya's plentiful stores. The hotel offers breathtaking city views, spacious rooms and a wide range of dining options. Rooms feature air-conditioning, flat-screen TV and minibar. Moreover, there is access to sauna, hot tub and beauty salon. On the top floor you will find the Garden Lounge and the Jazz Club.
Where to stay in Shinjuku
Advertisement
Shinjuku has the busiest train station in the world. Shinjuku is a major commercial district with mega stores and building complexes offering all kinds of shopping, restaurants and entertainment as well as a vibrant nightlife.
Budget
THE KNOT TOKYO Shinjuku offers city views and is located within walking distance of the Meiji Jingu Shrine. The hotel is central to Shinjuku's many shopping and restaurant options. Rooms come with flat-screen TV, kettle, fridge, desk and private bathroom.
Mid-range
Hotel Gracery Shinjuku is an excellently located hotel with only a few minutes' walk to Shinjuku Station. The hotel offers comfortable rooms with flat-screen TV, kettle, free WiFi, bathtub, shower, slippers and free toiletries. A Japanese-style and western buffet is served for breakfast. Close to Shinjuku's shopping options, Golden Gai and Gyoen National Garden.
Top
Hyatt Regency Tokyo is a 4-star hotel featuring an indoor pool, 7 dining options, free WiFi and free Shinjuku Station shuttle. Rooms offer great city views and en suite bathrooms with a bathtub and an overhead shower. Moreover, the hotel features the Joule Spa and Wellness, a fitness centre as well as a convenience store on the ground floor.
Where to stay in Ueno / Asakusa
Advertisement
Ueno is home to some of Tokyo's finest museums and the popular Ueno Park. Ueno Station provides easy access to places all around Tokyo (the Yamanote Line). Asakusa is the nearby district famous for the Sensoji Temple and the Kaminarimon Gate. With its traditional surroundings and Japanese restaurants, Asakusa is popular among visitors.
Budget
Hotel Edoya is a budget-friendly hotel / ryokan in the quiet neighbourhood Bunkyo near Ueno Station. The hotel features Japanese style rooms with tatami floors, futons and low chairs. The scoop is the ofuro / onsen section which has both indoor and outdoor hot baths. The hotel offers a Japanese (and Western) breakfast buffet.
Mid-range
Hotel Gracery Asakusa has a top location in Asakusa near the vivid and popular streets around the old Sensoji Temple and is near the kitchenware street, Kappabashi Street. Ueno Station is within 20 min walking distance and Tokyo Skytree within 20 min. All rooms are equipped with a kettle, air conditioning and a flat-screen TV.
Top
The Gate Hotel Asakusa Kaminarimon by Hulic is excellently located in the historic neighbourhood of Asakusa within minutes' walk from Asakusa Subway Station and close to the Sensoji Temple and the iconic Kaminarimon Gate. Rooms come with a flat-screen TV, desk, fridge and free WiFi. It features a restaurant and a bar as well as an open-air terrace with views of Tokyo Skytree.
Where to stay in Ginza / Minato
Advertisement
Ginza is Tokyo's upscale shopping area with fashionable department stores, luxurious restaurants, cafés and elegant buildings. It is close to the old Tsukiji fish market as well as the Chiyoda Imperial Palace and Tokyo Station.
Budget
HOTEL HILLARYS Akasaka is a centrally situated hotel in Minato-ku, south-west of the Chiyoda Imperial Palace. The hotel has a 24-hour front desk service and free luggage storage available. The draw is the traditional public hot bath on site. There are many dining options in the neighbourhood. The hotel is conveniently located between 3 different stations.
Mid-range
the square hotel GINZA is located in Ginza / Chuo in a lively neighbourhood and features a restaurant/café on site. The hotel features a common hot bath and has a remarkable design. It is close to the Antique Mall Ginza and the Wakayama Art Museum.
Top
The Gate Hotel Tokyo by Hulic is located in the vibrant city – a 15 minutes' walk from Tsukiji Fish Market and 1.5 km from Japan Imperial Palace. From the hotel there is easy access to public transport. The property features a terrace, a fitness centre and free WiFi. Rooms are large and come with flat-screen TV's.
Share on Social Media
Tokyo Japan Facts – Travel Guide
8. Health issues
Tokyo is a very clean city, and facts are that there are far from as many health risks in Tokyo as you hear about in many other Asian countries.
As a precaution you may want to check up on potential health issues and recommended vaccinations before going: Recommended vaccinations
The pollution level in Tokyo is in general not that bad compared to some other Asian cities, and the environment is clean. The daily real-time updated pollution index for Tokyo and surrounding areas can be viewed here: Real-time Pollution Index.
9. Facts about the Tokyo climate
The climate is humid subtropical. Summers are hot and humid, whereas winters are drier, relatively sunny and mild. From May until October temperatures are most likely above 20 degrees centigrade (above 70 degrees Fahrenheit). These are also the months with the highest risk of precipitations. Temperatures may well reach 35 degrees centigrade (95 degrees Fahrenheit) during the warmest summer months, and combined with the rain it can feel quite oppressive.
Therefore, the best time to come to Tokyo is often considered to be outside the summer months. Both spring and autumn are popular seasons to visit Japan.
Tokyo is also a typhoon exposed area, and in general the typhoon season also lies between May and October. Typhoons are large low pressure systems being created over the Northwest Pacific Ocean. During strong typhoons, expressways are sometimes closed off and the public transport stopped.
Due to being situated in a volcanic zone on the Pacific Ring of Fire, Tokyo also lies in a tsunami-risk zone and the Japan Meteorological Agency has a tsunami warning system to notify the population in case of incidents. The warnings can be viewed here: Tsunami warnings
Share on Social Media
Tokyo Facts and History – Travel Guide
10. Tokyo transport – Travel guide
Public transport in Tokyo is easy. The city has an extensive urban railway network and a considerable number of railway lines and operators. According to statistics there are well over 150 different lines and about 50 operators. Although there are also buses and trams in Tokyo, the rail services are by far the most common public transport used to travel within the Greater Tokyo Area.
The Tokyo rails serve about 40 million passengers every day. This counts both passengers going by underground and by other local, regional and national trains. Tokyo hits the record with more than 2,000 stations to travel between (if you count one station for each operator)!
There are two interlinked subways systems in Tokyo, the Tokyo Metro and the Toei Subways.
Advertisement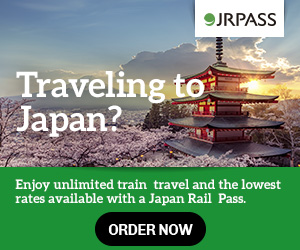 In addition to the subway lines there are also the JR trains in Tokyo. One of the very useful JR lines is the Yamanote Line which is a loop line around central Tokyo. It connects Ikebukuro, Shinjuku, Shibuya, Shinagawa, Ueno and Tokyo Station. The inner circle operates in counterclockwise direction whereas the adjacent outer circle operates in clockwise direction. The Yamanote Line is 34,5 km (21,44 miles) long. The wait is usually short – between 2,5 minutes and 4 minutes.
The busiest station in Tokyo is Shinjuku Station with 3.5 million daily passengers using both the shinkansen trains, the JR lines and other train lines. It has 36 platforms and 200 distinct exits! The second and third busiest stations both in Tokyo and in the world are Shibuya Station and Ikebukuro Station which are located on each their side of Shinjuku Station. Surprisingly enough, out of the 51 of the busiest stations in the world, facts are that 45 can be found in Japan – and about half of them are inside the Greater Tokyo Area!
There are many types of day passes available to travel within the Greater Tokyo Area. The Suica cards (at JR stations) and the Pasmo cards (at other stations) are frequently used and a recommended way to get around. You simply just swipe them over a card reader.
The Japanese bullet train Shinkansen is the fastest train. It can reach a speed of 320 km/h (199 miles/hour). There are 7 Shinkansen lines (Tokaido, Sanyo, Tohoku, Hokkaido, Joetsu, Hokuriku and Kyushu Shinkansen). The trains offer several classes, as well as both reserved and non-reserved seats. Some trains require an additional supplement (the Nozomi, Mizuho, Hayabusa and Komachi trains).
It may well be worth buying a Japan Rail Pass if you plan on travelling around in Japan. The rail pass covers all JR trains (and even some buses can be used to travel), including the metropolitan Yamanote Line, the Chuo Line, the Keihin-Tohoku Line, the Sobu Line and the Saikyo Line in Tokyo, as well as the Narita Express. A Japan Rail Pass gives access to free seat reservations and can be used on all trains except on the Nozomi and Mizohu Shinkansen trains – for 7, 14 or 21 days. You will need to buy your Japan Rail Pass online before coming to Japan. You then receive an exchange order which needs to be exchanged and activated once in Japan.
The website Japan Route Finder is an excellent website to get information on departures!
Finally, you can also take one of the plentiful taxis. Compare the taxi fare in Japan to the fare in your own country: Taxi Price
11. Geography
Japan is located between 3 seas: the Sea of Japan, the Sea of Okhotsk and the Philippine Sea. It is an island country consisting of 6,852 islands of which the main islands are Hokkaido, Honshu, Kyushu, Shikoku and the partly tropical, partly subtropical Okinawa.
The capital, Tokyo, is situated in the southern coastal area of the biggest island, Honshu. Honshu has both mountainous areas, fertile volcanic slopes as well as lowlands.
Tokyo is, like the rest of Japan, also located on several tectonic plates in the Ring of Fire. It is precisely where four plates, the North American, the Pacific, the Eurasian and the Philippine plates come together. Tokyo is therefore extremely exposed to earthquakes, and there are minor tremors nearly daily. Around 1,500 earthquakes strike the country every year.
12. Facts about Tokyo history
Read about Tokyo's history.
Featured image of
Facts about Tokyo Japan – Travel Guide:
Travel In Culture
INSPIRATION